Wellness & Preventative Care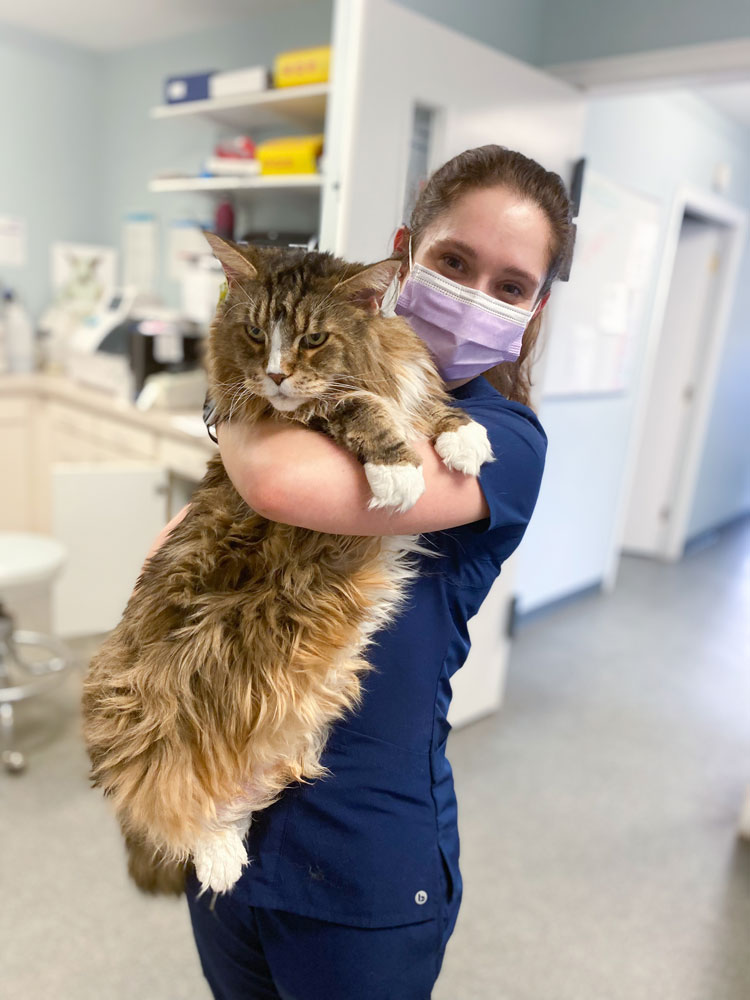 Even if your pet appears to be healthy, it is important to bring them in for an annual exam every year. A thorough physical exam from your veterinarian is key to diagnosing, treating, and protecting your pet from diseases. Pets are often good at hiding illnesses, so routine wellness exams can lead to a healthier and longer life for your pet.
For pets of all ages, we recommend a yearly visit with the veterinarian. Regular check-ups help us get to know your pet and their medical history, build a relationship with you, and potentially catch any problems while they are still mild and easily treatable.
Puppy & Kitten Care
A new puppy or kitten is an exciting addition to the family, and the first months with your new pet can be a very busy time! We're here to get you started on the right foot. During your first visit, we will provide you and your family with extensive information concerning your new pet, from behavior training to preventative care.
Vaccinations
Vaccinations are a vital part of keeping your pet healthy and happy. When you schedule an appointment with Pieper Veterinary, your veterinarian will discuss with you what vaccinations are recommended for your individual pet's lifestyle.
For pets that go to "high-traffic" places such as grooming, boarding, daycare, pet stores, and parks, being up-to-date on their vaccinations is very important to ensure they don't become sick. Most pet-friendly facilities will not allow pets that aren't fully vaccinated, and even indoor-only pets are still required to be vaccinated against rabies by Connecticut law. It's especially important for puppies and kittens to receive their vaccinations, as their immune systems are fragile and still developing.
Flea/Tick Prevention
Parasites aren't only a threat to our pets: they can also cause disease within our human families too. The preventative treatments our doctors prescribe address both internal parasites, such as intestinal worms, and external parasites, such as fleas and ticks. Keeping your pet on a preventative is the easiest and most effective way to ensure you can keep all members of your family safe and healthy.
Pieper Veterinary recommends an annual fecal test to screen for intestinal parasites and an annual blood test to screen for heartworm and tick diseases such as Lyme disease, anaplasmosis, and ehrlichiosis. Fortunately, most parasites and parasite illnesses are easily preventable with safe and effective products, and treatable in many instances if diagnosed in the early stages.
Senior Care
Our pets become even more special as they grow old with us, and providing individualized senior care tailored to the specific needs of aging pets is an essential part of helping them live a long, happy, and comfortable life with you.
Our veterinarians can offer you advice personalized to your pet on important topics such as nutrition, exercise routines, weight control, and mental and physical enrichment. Extra attention is given to special senior medical needs including blood pressure monitoring, dental health, blood screening, and chronic disease management.
Palliative Care
Palliative care is a type of medical care that focuses on comfort and pain management for the patient. It's often used in cases where focusing on aggressive treatment or a cure would likely not be successful and would cause further stress and discomfort for your pet. This type of care is most commonly used for progressive or chronic conditions like arthritis, where some medications can be used to help control the patient's pain. Palliative care is an extremely important tool in veterinary medicine, especially with our senior pets. While not all conditions may have a cure, there are still many different options that your vet can offer you to help ensure that your pet continues to live a happy, comfortable life.
End of Life Care
It is never easy when it comes to making end-of-life decisions for our pets. When evaluating the quality of life of your pet, you may want to have a discussion with the veterinarian, ideally, the primary care veterinarian who knows you and your pet best. Your doctor can assist you and help you ensure that are making the right decision in determining whether to continue treatment or to consider euthanasia to relieve your pet's suffering.
If you and your doctor have decided that the kindest course of action is to say goodbye, our team is here to help. We can help you make the arrangements for your pet's visit and guide you through the options for aftercare.